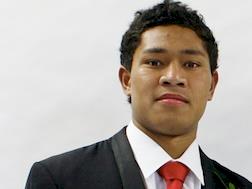 Uto came to Akaroa from Tonga just over four years ago to finish his highschool education at the local Area High School.
On completing that with NCEA success he embarked on a building apprenticeship with a local Husband and Wife building company team with an enviable reputation of successfully launching young men into the world with a full qualification.
A gentle giant with a reserved politeness, a quiet determination and a willingness to help anyone in need, now it is Uto and his family who can do with some help in return.
A successful academic life has complemented a sports component that has promise particularly at rugby with his inclusion in a rep team from Area schools and recognition from the Ellesmere Rugby Sub Union.
Last week Uto was dealt a really crap hand when on investigation of a heart irregularity it was discovered he had a very rare cancer that left him in a battle for his life and his prognosis is so far unknown.
Local teacher and friend of Uto's family has launched a give a little page to enable Uto's family to come to Christchurch to be with their Gentle Giant as things unfold, how no one knows as yet.
Uto Enosi needs a little help so pay a visit to "give a little".