If you read anything about the climate change scandal read these three posts.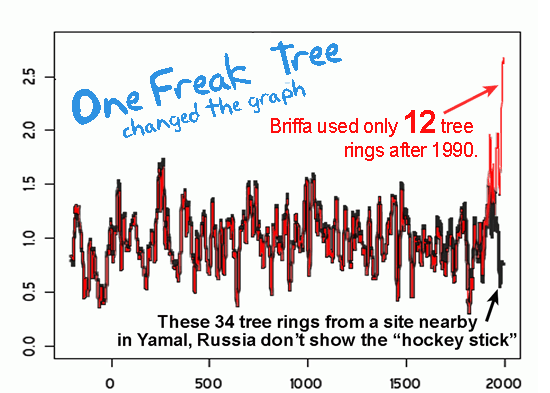 It also has this brilliant picture referencing the Yamal data corrupted by Briffa who is the second in charge at the CRU.
And then from Anthony Watts we have the news that
scientists at the UK Met office
are organising for all met organisations that have supplied climate data to HADCRU to consent to the information being published online. They are going to publish all the data they have collected for the last 160 years and the methodology. There is a
comment on that thread
that is worth reposting in its entirety below.
Will the MET be able to identify and separate out the Urban Heat Island?

McKitrick and Michaels:

conclude that the data contamination likely leads to
an overstatement of actual trends over land. Using the regression model to filter the extraneous, nonclimatic effects reduces the estimated 1980–2002 global average temperature trend over land by about half.

Quantifying the influence of anthropogenic surface processes and inhomogeneities on gridded global climate data Ross R. McKitrick and Patrick J. Michaels
JOURNAL OF GEOPHYSICAL RESEARCH, VOL. 112, D24S09, doi:10.1029/2007JD008465, 2007

Nicola Scafetta finds much larger solar influence than assumed by IPCC, and which projects well the older historic data.
N. Scafetta, "Empirical analysis of the solar contribution to global mean air surface temperature change," Journal of Atmospheric and Solar-Terrestrial Physics (2009), doi:10.1016/j.jastp.2009.07.007.

Then Don Easterbrook finds a major influence by the PDO and projects consequent global cooling and warming cycles.

Ferenc Miskolczi finds the global atmospheric absorption trend is effectively zero for the last six decades.

With the Urban Heat Island causing half the increase, solar, PDO taking up the rest, and with no enhanced absorption, what is left of catastrophic anthropogenic global warming?

Maybe that is why the Met is taking so long to review the data.

For more details see the 2009 NIPCC report Climate Change Reconsidered.