...........to take a look at the next round of Climategate's political victims.
First there was Australia's Malcolm Turnbull who, too late, found that Liberal voters don't like their leader getting into bed with Labor.
Now, America's first Afro-Ayrab President falls to an all time low.
Talk of impeachment appears for the first time - on grounds of economic destruction, epitomised by Cap and Trade.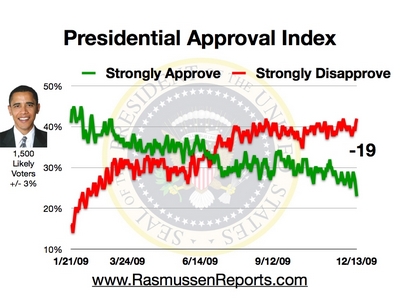 Could it be coincidence or is it that ordinary Yanks are waking up to Climategate and the biggest lie in history? Maybe healthcare is a factor but not so in NZ.
Where, for the first time since last year's election, John Key has taken a modest hit in a poll.
Last night's TV3 poll showed a whopping 9% decline in those who think he is doing a good job. Adolf reckons this decline is due largely to the foolish ETS and even more foolish journey to the carbonbunkum which is Copenhagen.
The next six months will make for very interesting watching.