I see the
MSM
in the form of the
NBR

has picked up
on Ian
Wishart's
expose of Helen Clark's real agenda for the UN.
World domination by a UN with its own armed forces.
Here's a snippet from Ian
Wishart's
piece.
The UN, with two parliaments, one for the nations as exists now and another for individual parliamentarians,
would gradually take over

responsibility for the military forces of nation states

, and
control world economic flows.
The briefing paper draws heavily on reports by

Kemal

Dervis

, Helen Clark's predecessor as UN Development Programme head, which indicates Socialist International has been working closely in plans to reform the United Nations along these lines.
This is a euphemistic description of Soviet style world domination.
So it is no wonder Adolf's antennae twitched a little when yesterday's Herald announced that the Labour Party is favouring a new candidate for Mt Albert.
One David Shearer
, currently Middle East chief of which organisation? Yep, Helen Clark's very own
UNDP
.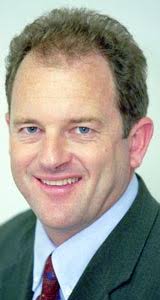 Ask yourself, how does a humble secondary school science teacher from
Papatoetoe
quickly rise through the ranks of the UN to such a senior position in one of the world's most
corrupt
organisations
?
How is it that he suddenly and conveniently is able to front up for what has been a safe Labour seat for decades?
Is he, like Helen Clark, a member of Socialist International?
Is this fellow to be our representative in the Socialists' brave New World Order?
Will he take the May Day salute?
There is much work here for New
Zealand's
few remaining competent journalists.
Go to it, Mr Gibson.