For the dairy industry at least.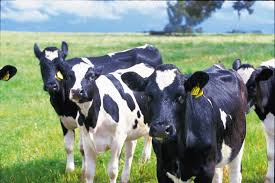 Today Fonterra
increased the milk solids payout
for the
current
season. Expect more to come.
"Powder prices on our global Dairy Trade platform have increased and our global sales team has made good progress in selling product at these improved prices. As a result, we now have the cautious optimism necessary to signal a modest but welcome increase in payout."
Those with eyes and ears have seen this coming for some time. The world cycle for dairy products started to trend upwards some months ago but there was little media comment. Fonterra cracked the Egyptian market recently and expects sales to China to triple in the near term.
You can be sure this will have been one of the reasons for PM John Key's optimistic assessment of our ability to come out of recession sooner, rather than later.
Astute watchers have been keeping a close eye on lamb prices as well. A typical 17kg lamb which would have fetched $60 last year is currently bringing $95 and is expected to sell for up to $120 next season. Some recession!
These things all mean prosperity for New Zealand about which Treasury had not the faintest idea when it issued it's gloomy predictions before Christmas.